.
C3 POWERSPORTS, one hardcore Canadian company, is proud to introduce its new and improved 2017 YETI SNOWMX snowbike models. Following are some of the many features of the 2017 YETI SNOWMX models. See what makes the YETI Better, Higher and Faster!
The MAXKEEL SKI is conveniently CAD designed with the same radius profile of the MAXTRAX track making your YETI package feel like a motorcycle on the dirt.The new standard in precise handling on the trail or in deep powder. Ride with confidence and stay in control with the consistent handling of the deep keel design. Ride with one hand, relax, have fun.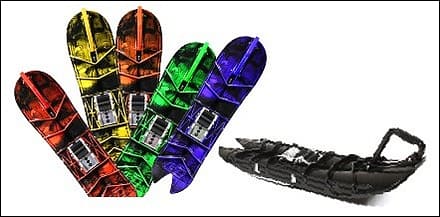 MAXTRAK II – Co-designed by Camso and YETI, the MAXTRAX puts the most horsepower to the snow with the lightest design available and 2.5" paddle design. New for 2017 enhanced  lug profile for better hard snow performance. Free up horsepower by reducing rotating mass. MAXTRAK II manufactured with special internal track rods allowing the track to flex when cornering, climbing easily and voted by our customers " most natural dirt bike feeling conversion kit."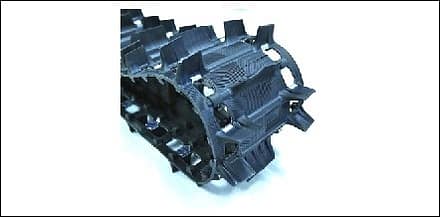 RRS – RIDER REACTIVE STRUT – Co-designed by Raptor Suspension and YETI, this piggy back reservoir shock, features 20 clicks of compression adjustment allowing the rider to quickly fine tune to their preferred ride. The RRS adds an additional 11" of suspension travel to the YETI's standard 11" giving you 22"+ of suspension, soaking up those trails with ease.
*RRS OPTIONAL EQUIPMENT* (COMES STANDARD ON USA-SHIPPED MODELS)
RAPTOR PERFORMANCE SHOCKS – 100% Billet Aluminum Construction •100% High Speed CNC Machined to Exacting Tolerances • Highest Quality Synthetic Blended Fluid • High Strength Delrin Bushings • Cutting Edge Computer Aided Design Software • Cutting Edge Fluid and Thermal Dynamic Modeling Software • Elegant Lightweight Ground Up Design • Progressive high flow Piston Design • Progressive Valve Codes • Internal Blow Off Valve • 20 position clicker • RAP (Rapid Adjust Pre-load) • NEST (Seal Technology).
CHAIN TENSIONER – New for 2017 Automatic chain tension system, standard on all models. New for 2017, each YETI comes with an automatic chain tension system (ACT). This simple system, takes up any extra chain stretch between chain tension adjustments.
BELT DEFLECTOR – New for 2017, the YETI belt drive deflector, has been made in a new material, tested for impact at -30 C and many times stronger than our current material. The overall thickness has also been changed in 4 key areas to increase strength and reliability and the bottom of the deflector has a new lip that comes over the clear cover, stopping snow ingestion, and locking the cover in place.
C3 POWERSPORTS SYNCRODRIVE BELT DRIVE SYSTEM – New for 2017 38% stronger. The C3 SYNCRODRIVE is 22% more efficient than a chain drive, maximizing the horsepower delivery of your bike to the snow. Easy to use and maintain, no grease no mess. Gearing changes with splined shafts can be made any time or place in less than 5 min. Try new gearing combo's easily. New for 2017 YETI models, a 29 mm wide belt for increased strength.
TITANIUM SHAFTS – Machined from 6AL-4V this Titanium Drive and Jackshaft combination make the ultimate statement that you want the lightest YETI that can be built without compromise. These Titanium shafts are 2.4 pounds lighter than the 1144 steel shafts that are standard equipment in the YETI, saving you weight and freeing up more horsepower for your YETI unique combination.
AEROSPACE MATERIAL – Built to very tight tolerances utilizing a lightweight, yet very strong Carbon Fiber chassis, CAD designed and FEA tested. Titanium bolts and suspension components combined with billet anodized aluminum make the YETI a very strong, yet light weight package.
CUSTOM ANODIZING AND GRAPHIC PACKAGES – No compromise on fit and finish, high attention to detail throughout, YETI makes a statement that you expect the best. YETI SNOWMX conversion kit delivers the lightest weight, highest performance of any Snow MX conversion. Accessorize your YETI to match your bike, and make a statement without saying a word.