The annual VERNON SNOW SHOW (BC Provincial Snow Show) is held on November 25th & 26th at KalTire Place. While many vendors will display the latest thrills of motorized winter sports machines, we are promoting Innerspace Watersports and Okanagan Snow Bikes along with gear, track kits and apparel. Our booth will also exhibit the newest of avalanche safety equipment, such as air bags, beacon, probes and shovels as well as the latest edition of our line of snow bike conversion kits – the YETI Snow MX. Mark in your calendars!! You don't want to miss the "Social Event" of the year!!! Click the image below for directions…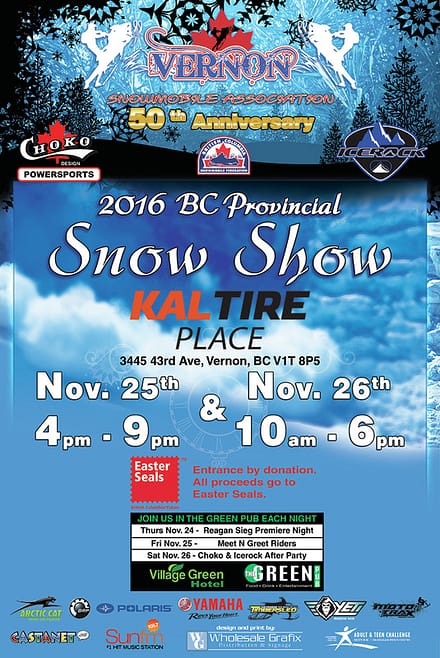 This show is organized by the Vernon Snowmobile Association (VSA). It will be held at Kal Tire Place on November 25 from 4 to 9 p.m. and November 26 from 10 a.m. to 6 p.m. The entry fee is by donation at the door, and all proceeds go to Easter Seals Camp for Kids. This shows that the snowmobile industry gives back to the community.
Come see vintage snowmobiles and meet pro riders—including Reagan Sieg, Brock Hoyer, Jamie Iwaschuk, Cody Kaliszuk, Stephanie LaRoy Schwartz, Brett Turcotte, Julie-Ann Chapman, Randy Swenson, the Hicks brothers, Trent and Tyler Backus, Jeremy Hanke and many more.