.
THE COMPACT HYDROPHILIC SYSTEM
Although it sounds complicated, it is actually very straightforward. When the body sweats, it does so to protect itself from overheating. Although this natural process is vital, it also creates the risk that the body will be cooled excessively, for example if the moisture in the clothing removes the heat from the body. The consequences of this would be reduced performance and a high risk of catching a cold. The solution is called Sympatex.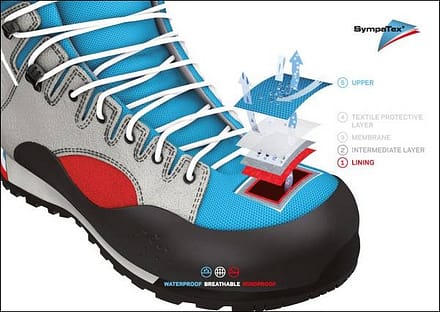 EXCELLENT COMFORT WHATEVER THE WEATHER
There is nothing more unpleasant than wet and cold clothing. Sympatex has therefore developed a special membrane which absorbs the water vapor and removes it through the clothing to the outside. This keeps the body warm and dry even in extreme situations. And the best thing about it is that the higher the physical activity, the more efficient the Sympatex membrane works. Functional textiles with a Sympatex membrane also provide effective protection from low temperatures and rain.
WATERPROOFING: 45000MM H2O
The water-proofness of the membrane is measured on the basis of the water column under the pre-assure of which the material starts to allow water to penetrate through it. According to EN 343, a membrane is waterproof if it can resist a preassure of 1300MM. Pursuant to ISO 811, the Sympatex membrane far exceeds these values and is extremely waterproof with a water column of over 45000MM.
BREATHABILITY
In contrast to other membrane technologies, the poreless compact Sympatex membrane is based on a physical and chemical principle. The water-attracting part of the membrane absorbs the moisture from the body and emits it to the outside by evaporation. The Sympatex membrane has no pores that can clog from oil, grease or salt from your sweat.
The transportation of water vapor away from your body happens on a molecular level.
WINDPROOF
The Sympatex membrane is 100% windproof, persuant to Din EN ISO 9237. This property is important to avoid wind chill, the feeling of additional cold in the wind.
EASY CARE
Wash your gear as often as you want, 100% function will remain guaranteed. Unlike porous membranes (EPTFE) the Sympatex membrane doesn´t get damaged or loose its waterproofness by detergent residues. This means that the garments retain full performance even after frequent washing.