PIEPS JETFORCE – JetForce is the first Avalanche Airbag Technology to use jet-fan inflation, a breakthrough system that draws air from an unlimited source: the atmosphere. Testable, re-deployable and travel friendly, JetForce is the result of a multiyear collaboration between Black Diamond and PIEPS, two leaders in avalanche safety innovation.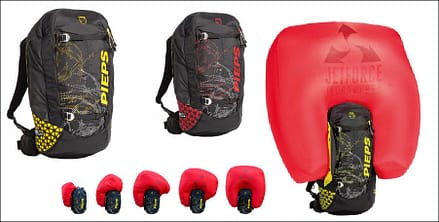 Combining Black Diamond's expertise in industrial engineering and back country travel, JetForce features countless improvements over existing airbag technologies, from an intuitive deployment trigger to a proprietary tear-resistant and easily re-packable airbag fabric.
To design JetForce's custom electronics, Black Diamond turned to PIEPS, leaders in digital avalanche transceivers. PIEPS applied their digital expertise to the engineering of JetForce's electrical systems, from the 'good-to-go' self-diagnosis on startup to the system-status LED monitors mounted in the trigger.
JET-FAN
Battery-powered jet-fan inflates a 200L airbag in 3.5 seconds, followed by tear recovery bursts
MULTIPLE DEPLOYMENTS
Travel-friendly, compact lithium-polymer battery supports 4+ deployments per charge
AUTO SELF-DIAGNOSIS LED
Lights indicate system status. PIEPS electronics perform 'good-to-go' system check on every startup
LARGER AIRBAGS
Constructed with high-tenacity, puncture resistant automotive airbag material
DEFLATION
Airbag automatically deflates after 3 minutes to create a potential air pocket, and aid in extraction
PRACTICE
Airbag is easy to repack for multiple deployments or practice at home